Big data is of big value with the iProven Health app
11.08.2016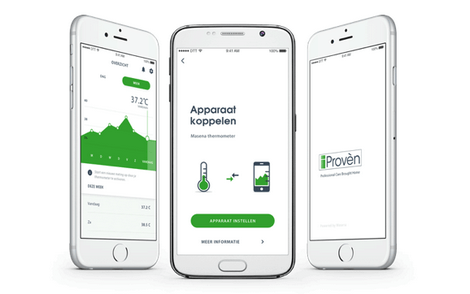 Fit is hip. And thank God it is, because being fit is very important. This is the professional opinion of Masena Invest. The company has the aim to offer worldwide health support by developing medical products of high quality. Now also in the form of an app: iProvèn eHealth app.
A flourishing collection
Big data is of big value, because knowledge is power. iProvèn app helps you collect such data as temperature. The user of the app measures his temperature several times per day or week for future analyses. In the future DTT will also implement other measurement instruments like a sphygmomanometer and weight scale. So, even more ways to improve the health!
Connect with Validic
The app is connected to the independent doctor system called Validic. This way doctors are instantly up to date about the state of the patient. In short the idea is the following: the measurement instruments are connected to the smartphone. And the smartphone then sends data to Validic. Isn't that easy!
More news from DTT
DTT fills its summer vacation with the development of many magnificent projects.
We are now busy with Hoes geocaching game, Aslan musicschool app, iProvèn e-Health app and the Fruitbuit app for RIVM.