Emerce: Daalder app with around 100.000 users
21.12.2015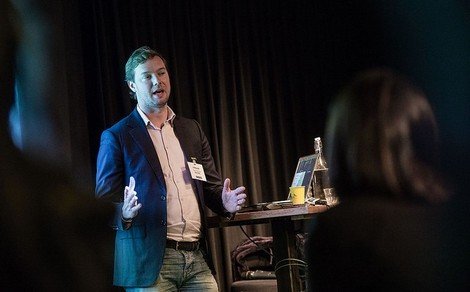 Daalder, a mobile payment service developed by DTT, is expected to reach 100.000 users in March 2016.
That said Renz Millenaar, founder of Daalder, yesterday to Emerce eFinancials. The business will start from mobile parking.
Daalder Pay made debut in the hospitality industry in Amsterdam. A test runned with several Amsterdam shops and horeca business, including Headfirst Coffee Roasters, the Jordan Shipping Company, Working Space Seats2Meet, Beurs van Berlage and Sane Salad & Juicebar.
Since then, Daalder Pay has spread its wings. Currently, the payment app is active in four provinces,  in more than 150 locations. Schools pay children use Daalder Pay for their lunch. "Parents want a prepaid solution so that they can follow the spending habits of their children."
Read the full article here.
Success stories of the Daalder app:
FTM: Nieuwe toepassingen dagen de orthodoxe financiële wereld uit
Telecompaper: Mobiel betalen wordt gemeengoed in Nederland
De Ondernemer: Mobiel betalen en bestellen, gemak of veiligheid?
Sprout: Betaal-app Daalder zet banken (nog niet) buitenspel
Misset Horeca: Smartphone is de nieuwe portemonnee
Emerce: Daalder Pay naar 100.000 gebruikers
Androidplanet: Weg met de portemonnee: de toekomst van betalen is je Android
Computable: Keadyn steekt vier ton in betaal-app Daalder
Retailwatching: Drie betaalapps: Alibaba, Daalder en Facebook
Droidapp: Daalder app: 90.000 scholieren kunnen nu betalen met mobieltje
NU: Tienduizenden scholieren kunnen mobiel betalen in kantine
Emerce: Proef mobiel betalen
Marketingtribune: Mobiel betalen in de schoolkantine
Security: School start proef met mobiel betalen voor scholieren
Daalder instructievideo: How It Works
Horecatrends: Daalder mobiel betalen
Z24: Nederlandse startup in mobiel betalen Daalder neemt het op tegen banken en Apple
Emerce: Horeca amsterdam krijgt betaal app
Banken.nl: Mobiel betalen nu op iedere smartphone mogelijk
Retailwatching: Drie betaalapps: Alibaba, Daalder en Facebook
Sprout: Betaal-app Daalder zet banken (nog niet) buitenspel
Retailnews: Daalder komt met onafhankelijke betaalapp
Dutch IT-channel: Daalder biedt gratis betalings app voor Android en iOS
Misset Horeca: Daalder lanceert mobiel betalen app voor horeca
De Telegraaf: Nieuwe app voor betalen met smartphone
Telecompaper: Start-up Daalder lanceert mobiele betaal-app
Ecommerce News: Daalder: 'Mobiel betalen nu op iedere smartphone'
Androidplanet: Daalder is een digitale portemonnee voor je Android
Security: Nederlandse start-up lanceert betaal-app voor smartphones
Ecommerce News: Daalder: 'Mobiel betalen nu op iederen smartphone'
Silicon Canals: Scholieren betalen lunch met app van fintech startup Daalder
Numrush: Daalder: De startup die je bankpas overbodig maakt
Consumentenbond: Mobiel en contactloos betalen
DTT blog: Worthy opinion from Daalder
DTT blog: Pearls of media coverage
DTT blog: Payment app Daalder success in app stores
DTT blog: Emerce: Daalder app with around 100000 users
DTT blog: Redesigned Daalder payment app available now!
DTT blog: Sending press release about the app is fruitfull
DTT Youtube: Daalder instruction video