Featured in iTunes: I amsterdam Maps & Routes
13.09.2017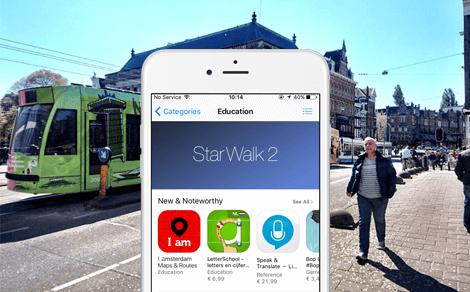 Once again DTT's I amsterdam Maps & Routes app hit big. From 7 to 10 September the app was featured in iTunes in the Education category. Since the launch of this solution, developed in collaboration with the Municipality of Amsterdam and I amsterdam, the I amsterdam Maps & Routes app has already achieved success and received a lot of international attention.
I amsterdam Maps & Routes in a nutshell
This is the app that allows Amsterdammers and tourists to hit off the beaten track and explore the city's hidden paths. Eleven different neighborhood routes are identified in the app, interesting places and hotspots are included in each neighborhood. I amsterdam Maps & Routes is an experiment to find out whether and how the app contributes to the spread of visitors and mobility of residents, aimed to better distribute the city's attention across the different neighborhoods.
Curious about the app? Then download the I Amsterdam Maps & Routes app in the App Store or the Google Play Store.