Kluscontact job platform live
09.06.2017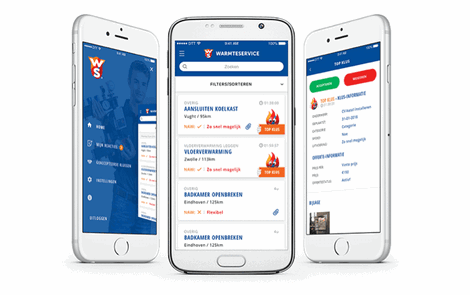 Do you need to repalce a central heating boiler, lay underfloor heating or install a shower faucet? For all this issues, there is now a solution - Kluscontact app. It is an online job platform from Warmteservice that brings mechanics and clients together. Starting from today, users can download the Kluscontact app for iOS and Android.
Supply and demand come together
The Kluscontact app is an extension and further development of Kluscontact.nl, an online job platform of Warmteservice, previously available only for web. On behalf of Warmteservice, DTT has developed the mobile application as a next step in popularization and facilitation of the platform among users. Assignments placed by users are automatically sent to the mechanics. With the app, the mechanics are able to quickly respond to new tasks and jobs.
Get to know more about Warmteservice.
Success stories about Kluscontact app:
DTT blog: Kluscontact app from Warmteservice
DTT blog: DTT just perfectly arranged