KNHS dressage app number 1 top paid in iTunes
14.03.2016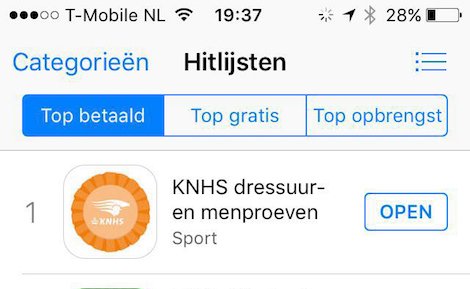 The KNHS (royal Dutch horse sport federation) dressage app offers great support to horse riders. It is a proven well-needed support. Why? After two weeks live, the KNHS dressage app reached first place (!) in "Top paid apps" category in iTunes. 
Sold like hot cakes
The KNHS dressage app gives the rider an overview of the trials in the competition. The user sees videos, audio and the latest news. Therefore it is a useful asset for every rider. Overall, the app received a very warm welcome. 
Hold your horses 
...because we have great news. In the App Store (iTunes) you can find the Hit list. The name already reveals the content, so we are talking about most popular apps. These are the categories:
Top paid
Top free
Top income
We can proudly say that our KNHS dressage app steadily stands in the 'Top paid' category. The app received all honours with not the third, not the second… but the FIRST place.
Android phone users are also enthusiastic about the app.
And that's how it's done!
Success stories of the KNHS app:


Horses: Nieuwe dressuurproeven online
Dressuurstal van Baalen: Nieuwe dressuurproeven per 1 april 2016
FNRS: Nieuwe dressuurproeven vanaf 1 april
DTT blog: Pearls of media coverage
DTT blog: Six top scorers from DTT in the spotlight 
DTT Blog: Our showpiece: the KNHS dressage app