Now live: The Roxxle app
06.03.2019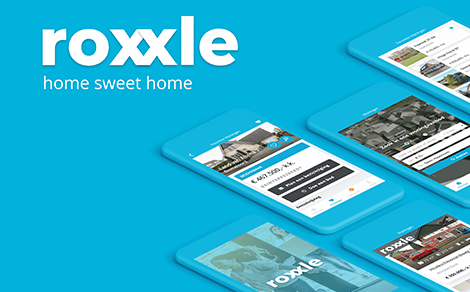 New housing platform is free and reaches for integrity.
A new and modern approach to promoting private housing and rental properties? Housing platform Roxxle is going for it, so brokers have a website to offer their real estate for free.
In 2017, Henk Bakker and Roelof Bennink started offering energy supplies to movers with real estate agents that were connected to their company Enfed Real Estate Services. Other services like Wi-Fi and telecom followed. They frequently heard from brokers that there was a demand to increase the promotional efforts of their real estate. One of the more important reasons to decide against putting their real estate on existing platforms, was because it cost a lot of money, says Bakker: "Depending on the platform the price was between 100 and 300 euro for each house. Therefore the broker regularly made the choice not to advertise their real estate on the website. And so the house searchers did not get to see the full offerings."
Independent and complete
Bakker and Bennink decided to make a difference – "We both are conceptual thinkers" – and developed a new housing platform: Roxxle – home sweet home. Bakker: "A fully independent platform that is free to use for all brokers and where you can find the entire real estate offerings." Bennink: "When we dived in, we discovered that there aren't many costs when creating a platform, apart from investment for the development and further development, because we have a lot more innovative ideas. The hosting costs are nearly zero, which is why we decided to make it a free service and to keep it free. The revenue remains to be the delivery of housing services, Bennink explains: "For providing housing services we receive a kickback from societies. The broker receives the biggest share through us."
Both entrepreneurs don't doubt the demand for their platform. Bennink: "Funda and other platforms like Pararius have nice websites, but the costs for brokers are high, that's where we distinguish ourselves. There are brokers who mention the fact they save tens of thousands of euro's by not putting all their real estate on the popular platforms." Bakker: "I think that nearly half of the offerings of private housing and rental properties aren't found on Funda." That's why they see it as the right time for an alternative. Bakker: "The monopolistic market tends to raise their prices even more. In our eyes a housing platform is possible thanks to the brokers, not the other way around." Bennink: "Letting loose of profit maximalisation brings you other ideas and solutions. We say: the broker has the customer, does all the work and collects all the real estate information. So why ask insane prices for putting that information online? Currently some platforms earn tens of millions of profit through house sellers and brokers."
Offers only through brokers
Both are convinced of the surplus of a broker during the buy and sell process. Bakker: "There is a lot coming around and it is one of the biggest purchases someone will do. A potential buyer or renter can see pictures and groundplans, but eventually would want to walk through the house. And if there needs to come a taxation and buying agreement, professional guidance is necessary, apart from the guidance for price negotiations. Therefore we work exclusively with brokers, the consumer can not directly put an advert on the platform." Roxxle sees the need in trade associations. "Our plans regularly get discussed with VBO broker." Bakker tells: "Therefore we earned the trust from the VBO- members to put the full offerings on Roxxle. But we are and will remain independent and not aligned to an umbrella organization."
Also members of trade associations register for the platform. "From our services on the ground of home services we already connected hundreds of good relationships with NVM- members and others at Vastgoedpro." Bennink adds. "Every broker is more than welcome to put its full offerings on our website. Via Kolibri and Goes & Roos, one press on the button will extract every real estate to Roxxle. Also via RealWorks this function will soon be available."
Download the Roxxle app now for Android and iOS. Or visit www.roxxle.nl.