Press release: Launching Amsterdam Discovery Challenge app
02.06.2017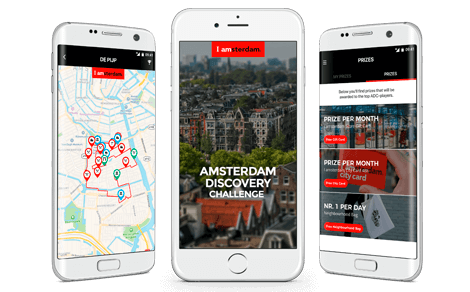 City marketing organisation Amsterdam Marketing and app developer DTT in collaboration with the Gemeente Amsterdam (Amsterdam Municipality) launched the free app Amsterdam Discovery Challenge yesterday. The app allows Amsterdammers and visitors to explore the city to the full extent. The app features eleven different neighborhoods and interesting hotspots in each. Amsterdam Discovery Challenge is an experiment aimed at finding out how to contribute to the spread of visitors and mobility of residents, and to see whether different neighborhoods require more attention. The app and 24H Discover Your City and the Neighborhood are part of the campaign, which Amsterdam Marketing is running in order to promote Amsterdam abroad.
Neighborhoods available in the app are: NDSM, Noord, Westerpark, Bos en Lommer & De Baarsjes, Oud West, Oud Zuid, De Pijp, Oost, De Plantage en Oostelijke Eilanden.
The iOS and Android app introduces residents and visitors with appealing places in the neighborhoods outside the center of Amsterdam.
The Challenge
In the app, you earn points by checking in at certain hotspots, unlocking additional information or answering trivia questions, thereby giving you the chance to win prizes. The hotspots in the neighborhoods are only visible if you are within a certain distance of that point. This is dones with the help of GPS signal.
Amsterdam Marketing proceeds the data together with app developer DTT. If the app is successful, more features and routes in the future will be added.