Ready for the summer festival with Festive app
10.06.2015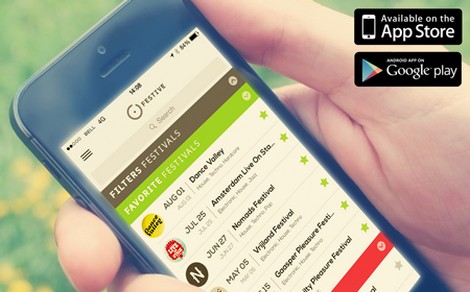 Festive is the first app that maps the full range of festivals in the Benelux. DTT has taken care of the development of both the iOS and the Android version. Festive app lists valuable information on all events, such as line-ups, artist info, timetable and ticket prices. All relevant information for each festival can be stored offline. For example, despite the limited connection on the festival, users can still view the timetable and receive a message that their favorite artist is about to start.
The app is developed by two Amsterdammers, Michael Webber (23) and Nick Falkenberg (27). As avid festival-goers they were annoyed that must download an individual app for each event. Thus they come up with the idea to create a festival platform with all the latest festival information available. A platform not only for festival lovers, but also for festivals themselves. Festivals have their own page within the platform, so that they do not have to develop a valuable app themselves. Visitors have the option to order tickets through the app and have a look at the program. Every artist in the line-up has its own page with clips and music to be played.
"With the Festive app, there are only winners. Usually it costs around € 10,000 to develop two quality applications (iOS / Android). This is a serious contribution in a festival budget. But now festivals have a quality app with rich functionality and their own style for a much smaller amount. in addition, their festivals are shown at the festival overview, to be better found by festival fans." - said Michael Webber.
The start-up costs for the Festive app Nick and Michael have paid out of their pockets. During the investment round they got 150,000 euros for development of the app. The Dutch and Belgian markets serve as a testing ground for the rest of the world. Talks are already underway with partners in the US to include the US offer in the app. The app is also aimed on European expansion.
Success stories of the Festive app:
Frankwatching: Festive-app: Alle festivals van de Benelux in één app
ING: In het nieuws: Prijzen van festivals stijgen
Persberichten.com: Klaar voor de festivalzomer met de Festive app
MarketingOnline: Festive app toont festivalaanbod van de Benelux
Emerce: Klaar voor de festivalzomer met de Festive app
Adformatie: Festive app toont festivalaanbod van de Benelux
DTT blog: Ready for the summer festival with Festive app
DTT blog: Sending press release about the app is fruitfull