RefCom4All at National Sport Trade Fair 2017
30.08.2017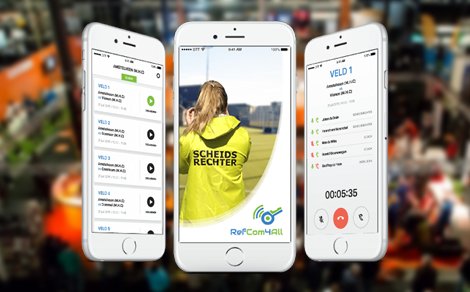 RefCom4All, the communication tool for hockey referees, is making progress in the hockey world. On the 15th and 16th of November 2017, the National Sport Trade Fair will take place again in Events Hall Gorinchem, and of course, RefCom4All can not stay unnoticed there.
Influencers from the sports industry
Are you in charge of the sports sector in your municipality, do you belong to a sports association, or do you support the association in a different way, such as volunteer (think of a site manager, commissioner, physiotherapist or trainer), then the National Sports Fair is something for you! Are you also involved in a hockey association? Then visit RefCom4All (number 181) and find out what benefits the app has to offer for your hockey club. More about the National Sports Trade Fair 2017 you will find here.
Also visit the RefCom4All website for more info.
More success stories about RefCom4All app:
Haarlems Dagblad: Minder frustratie, meer plezier
Hockey.nl: Betere scheidsrechters en minder gemopper door oortjes.
DTT: Cake from the satisfied customer of RefCom4all app
DTT: RefCom4all on hockey.nl
DTT: Refcom4all in Haarlems Dagblad
DTT: DTT milestone RefCom4all is live
DTT: RefCom4All live in Google Play Store