Happy new year! Retrospective in 2016 and 2017 preview.
5.01.2017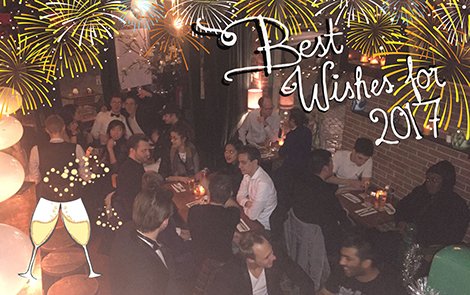 So. The first week of January is a good time to draw up the balance. 2016 was a successful year for DTT. We had new orders, new employees and even found a new office! And we have a lot of big plans for 2017. Check it out.
A retrospective in 2016
In 2016 DTT was very popular among job seekers and businessmen. Both potential customers and potential staff frequently applied and were welcomed with open arms. We will start with potential employees. As befits real IT people, we love numbers. Therefore, we enumerate our upward trend in staff in hard numbers, check it out and be amazed.
Number of cover letters - 250+
Number of job interviews - up to 12 calls per week (!).
The nationalities of new employees - at the end of 2016 we took 4 new nationalities in the house. Including Tibetan and Indonesian.
M / F? On our team page the majority of our employees are male. However, we promote diversity, therefore we took 6 new ladies in our team. So at the end of 2016 we have 11 women working for us!
How to get a job at DTT? To begin with, visit our vacancies page and check for the available positions. Your application process includes a test you have to pass. Sometimes it requires more than a week to complete the test, but this is what we appreciate in our new employees - persistence!
We take only diligent people to work for DTT! This policy has prooved to be successful. Our results for 2016:
Many hundreds of 5 star ratings for our apps.
Millions of app sessions.
Millions of additional revenue for Blokster - a housing app.
No. 1 in top paid app ranking for KNHS.
We appeared on the pages of NOS magazine, Volkskrant, Adweek, PowNed and FunX.
Repeat orders from major clients such as HG.
True art pieces both in terms of teamwork and bizarre deadlines.
Pioneering projects in the field of VOIP, music (recognition) and voice messages. See also: RefCom4all, Listen & Play and Read2Speak.
What else? Code quality, process improvement, expressed confidence in our actions.
Serious investors in DTT projects.
Looking forward to 2017
Well, enough with sharing memories. It's time to move forward! Our bright start begins with moving to a new office in January. We change our convenient office on the Spuistraat to an even more central spot on St. Nicholas Street. This is clearly a step forward, because our new site is 370 square meters. We have even more space for great projects and motivated employees. With this move DTT comes back closer to its goals and values: further professionalisation and constant growth in quality.
From 2010 to 2017, from a sole proprietorship we developed into an app development agency. From unknown (and unloved?) business to a company with a format; a company with a reputation. What is our secret you may ask? Again perseverance. Of course, the continued focus on quality, extra effort and transparent teamwork. Together we are building something beautiful: DTT is a creation of all employees.