The Doula Labour Coach app: 4000+ ratings and 4,4 stars
19.07.2019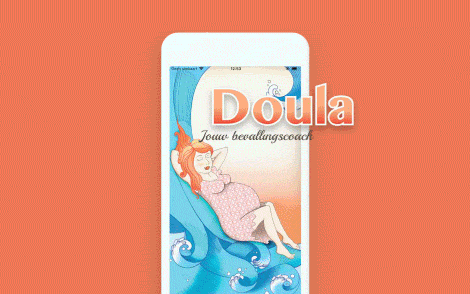 All over the world the Doula Labor Coach app is doing great in the app stores. Calming as it is, as thunderous are the results: 4000+ ratings with an average of 4,4 stars out of 5!
Worldwide support
Worldwide the Doula Labor Coach app is supporting hundreds of thousands of mothers. With a warm voice and relaxing background music, mothers will be guided with love during their labor. Doula is available in Dutch, Moroccan, Arabic, German, French, Russian, Spanish and Turkish. Also the statistics of the labor times will be automatically displayed in a clear graph.
Great reviews from users
It makes us very proud that the app is receiving a lot of positive reviews from its users. Look at a couple of these great reviews:
★★★★★ "Aanrader"
"Ik ben anderhalf jaar geleden met deze app bevallen. Ze hadden nog nooit zo'n relaxed iemand gezien met een app :) het heeft me echt heel erg geholpen. Niet betuttelend, maar steunend (ja echt) en ik vond de muziek erg meewerken. Aanrader! Ik had het gevoel alles onder controle te hebben."

★★★★★ "Angenehme"
"angenehme ruhige Betreuung"
★★★★★ "Superbe"
"Superbe apli qui accompagne pendant l'accouchement . Je la recommande aux femmes qui veulent contrôler leurs contrations sans être dépassées"
★★★★★ "الحقيقه"
"انا الحقيقه مو جربته بس بدي جربه"

★★★★★ "Прекрасный"
"Прекрасный мягкий голос при открытии приложения, сразу же внушил доверие. Я сейчас на последних сроках беременности и даже такая поддержка дает очень очент много. Появляется ощущение присутствия и заботы, пожалуй с этим можно сравнить первые минутки работы с приложением. Сохраняю его как помощника в родах."

★★★★★ "Empezando"
"Estoy empezando a usarla para la preparación del parto"
★★★★★ "What I need"
checking out this app for labor, and it looks like what I need to deliver my third unmedicated baby!"
★★★★★ "Daha incelemeden"
"bu nasi bisey daha incelemeden"
Interested in the Doula Labor Coach app? Download now for iOS or Android.