Kluscontact app from Warmteservice
30.09.2016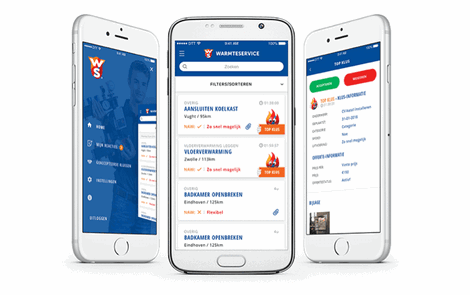 The Kluscontact app is an extension and further development of Kluscontact.nl. Currently, this is a marketplace for jobs in the form of a website. Now we will do what we do best. DTT is busy now with the next stage - the development of the app.
Who is Warmteservice
Warmteservice supplies boilers, radiators, underfloor heating, plumbing, roofing, fittings and electricity for handymen. To add more to this, the founders decided to have the Kluscontact app developed. Within 2 weeks, the app will be ready and the handymen can have more orders. DTT team has worked tirelessly for months on making this platform that connects the job seeker and the hirer.
This variant of the Kluscontact app is targeted on engineers. With the app, they can respond on incoming orders and jobs via their smartphone. In short, a new task at your fingertips! It is also convenient for those who need plumbing services: they get faster response to their request.
We say: keep the app stores tuned!