Neringa Bukytė | Android Development internship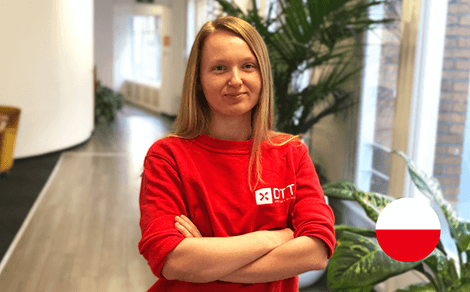 "My internship at DTT Multimedia was a great experience as I have learnt a lot in various aspects of the entire development process. I received independence and time to work on various features and bugs; I had enough time to learn and read more about the topic that I was working on. At the same time I could always ask for help if something was unclear. I could ask questions which were even unrelated to the projects, and developers were always ready to explain the topic in more detail. This created a healthy atmosphere where I was encouraged to do my best, knowing that if I got stuck, someone would always help me. Therefore, I had enough support to try new things. For example, I developed my first app in Kotlin.
During my internship I have worked on various projects, some of these were smaller and some were bigger. This gave me the opportunity to gain experience in how to acquaint myself faster when starting with a new project. It also made me understand the importance of app architecture. Usually a project got assigned to me, but I found it nice that I could express my preferences on which project i would like to work on or in which subject I would like to get more experience.
I would recommend an internship at DTT Multimedia to everyone who is starting (or planning to start) their career as an Android Developer. DTT Multimedia has a great atmosphere where one can learn, improve and discover new skills." 
OVERVIEW