CokeTV: 100k+ views for DTT AR-game
07.02.2018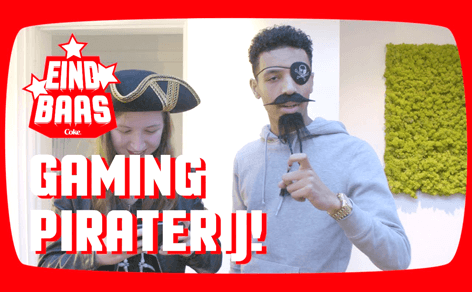 Vlogger Shaquille, or better known as SjaakPlays, from YouTube channel CokeTV Nederland (72K subscribers) and student Kirsten came to DTT to get more information about the development of the AR-game. This visit was published in a vlog, which has now gained more than 100K views!
Kirsten was surprised by her friend who signed he in for a visit to our office. She is a game designer herself and wanted to know more about the development of games. After a brief tour of the office, she joined our team for a brainstorming session. At the session the central project was our own AR game under development. Kirsten was allowed to come up with design concepts herself and received advice from our designer Thamia.
After the brainstorming session, Kirsten has also tested the game. Kirsten came out victorious! She defeated our Dezley in a multiplayer battle. We hope Kirsten had fun and actually learned something from the visit. We found it very nice that she and CokeTV came by.
DTT is clearly visible from 3:06.