DTT in-house: AR-game in development
04.01.2018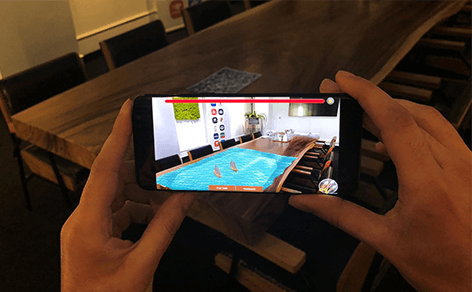 Although DTT almost always works on clients' projects, we continue to challenge ourselves to keep up with the latest technological developments. That is why in recent months we are busy with an in-house Augmented Reality (AR) game. In this blog we will tell you what this game is about, how it will look like and will share the first images with you.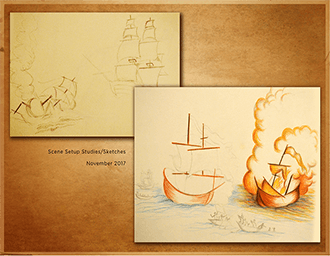 Multiplayer
The aim of the game is to compete against each other with pirate ships. The battle occurs on a playing field of water. When the phone is aimed at a marker, you will see the battle field on your screen. The marker is therefore physically in front of you, and you see the virtual world on your screen. In the future it is planned to use the AR-kit to make the game available without a marker.
Unity development
The app is made from scratch, from code to artwork, everything is developed within the walls of DTT (except the 3D assets). Because everything is 3D in AR, we have chosen to develop the game using Unity technology. This is a so-called game engine that allows to add beautiful images and smooth animations. Currently it is possible to play only against an AI (a computer-controlled player), but as mentioned above, in the future it should be possible to challenge each other.
Theme artwork
Although the gameplay is very important, the game has to be saturated with an ambience of shipping from the 16th and 17th century. The user will enter a world of adventure, discovery and tension: piracy. To make it possible, the design team has created various artworks: a fine example of drawings, if you ask us.

The first demo in Q2 of 2018 is expected to be put live in the iTunes App Store. Below you can see a video in which you can experience the current status of the game. Although the game is still in development, we look forward to going live. Are you also curious about this AR-game? Check our website regularly.
Sneak preview