Hebban Books app: a success story
24.10.2017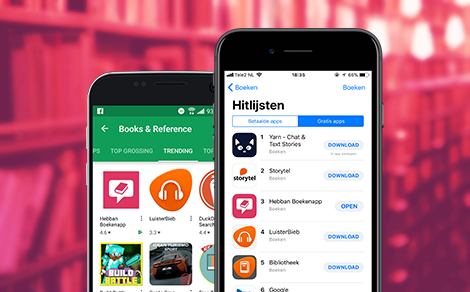 Since going live on October 19, the Hebban Books app became a "success-rollercoaster". Within a few days more than thousands of new users. Also exuberant ratings and reviews in both app stores.
Number 1 in Google Play and number 3 in the iTunes App Store
A lot of downloads and active use in a short time is rewarded by app stores. For example, last weekend the Hebban Books app reached number 1 position in the "Trending List" in the "Book & Reference" category of the Google Play Store. Also in the iTunes App Store, the fast-paced success of the app did not go unnoticed: the app's reached 3rd place in the Top Free Books apps list.
Good ratings and reviews for Hebban
In the Google Play Store the Hebban Books app has already received more than 60 reviews and has an average rating of 4.5 stars. In iTunes, the app scores well with an average rating of 4.4 stars (from over 25 reviews). Also reviews are very positive. Here's a small grip from it:
★★★★★ door Petra Philips
"Geweldige app! De website was al top de app is heel handig... je kan bijhouden welke boeken je hebt gelezen, recessies lezen, over de nieuwste boeken lezen... kortom top!!!"
★★★★★ door Greet Oostvogels
"Wat een leuke app! Het opzoeken van een titel gaat vliegensvlug. Je krijgt heel wat informatie mee, kunt recensies lezen. Je eigen boekenplank bekijken en aanvullen. Volgen welke boeken trending zijn. Met deze app ben je als boekenliefhebber altijd up-to-date. En het scannen is super leuk. :)"
★★★★★ door Hansie Worst
"Werkt fijn, de boekenscanner is erg handig om bij de hand te hebben! Daarnaast echt een goede update tov de vorige app! Ook goed dat je nu bij je eigen boeken kan, je leeslijst kan bijwerken en dat de zoekfunctie gewoon erg goed werkt! Chapeau!"
If you haven't downloaded the app still, you can do it in the App Store or the Google Play Store.
Success stories about Hebban Books app:
Hebban: Download nu de Hebban Boekenapp in de Google Play Store
Hebban: Download nu de Hebban Boekenapp in de iTunes Store
Boekblad.nl: Hebban Boekenapp is gelanceerd
E-readers: Nieuwe Hebban Boekenapp is live
DTT blog: Hebban Books app is live