Now live: The BMN Health & Safety app
25.01.2019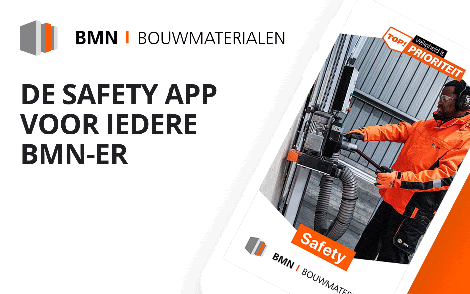 BMN Bouwmaterialen (BMN Building Materials) is the market leader in the area of products and services for residential and non-residential construction. To increase the safety on the work floor, BMN has constructed the Health & Safety app with DTT.
The BMN Health & Safety app
With the BMN Health & Safety app BMN sets an important step in digitalising their auditing process. With the app, BMN employees can get access to personalized questionnaires, forms, checklists and other information. With the help of push notifications, future action points and status changes will be noted on time. Managers at BMN can use the dashboard to see and judge real-time filled checklists, forms and incident notifications.
The CMS
With the CMS, managers can add new questionnaires, forms, users and checklists. Lastly, it's possible to send specified push notifications, e.g. a new questionnaire, to certain users/groups.
BMN employees can download the app now for Android. The iOS version of the BMN Health & Safety app is only available B2B, therefore BMN employees with an iOS device will receive a promocode to download the app.