Press release: Middin launches sex education app
24.09.2015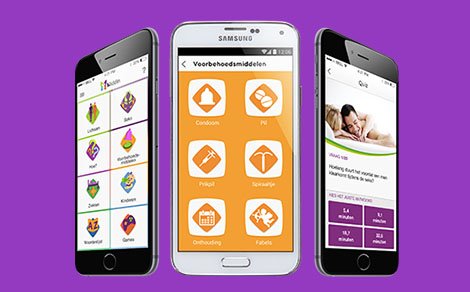 Middin launches a new educational app. The app gives sex knowledge to young people with mild intellectual disability (MID). The app is free to download. Young people with MID often have problems with sexuality, including sexual abuse, loverboy problem, unwanted pregnancies and sexually transmitted diseases. This audience is often not well informed and finds it difficult to talk about sexuality and admit that knowledge is lacking. Sex education therefore plays an important role in supporting the guidance of Middin.
Clear information
The app is a great addition to the personal information provided by the supervisor of Middin. Clients can see information themselves even if the supervisor is not around. The answrs about sexuality are given in words, pictures and videos. The client becomes self-reliant because he can easily find information himself.
Some reactions from clients: "I thought I knew everything but I still came across new things". "Now I can first look up the information and then later discuss with my supervisor."
The Middin sexual education app is developed by Middin care managers and behavioral experts in cooperation with DTT. Middin clients have tested the app. Meanwhile, within two weeks, more than 200 clients downloaded the app and use it actively. The app is now free to download for Android Play Store and for Apple in iTunes.
About Middin
Middin, provides care and support to more than 4,000 people with disabilities. It includes children, adolescents, adults and the elderly. Middin has an extensive range of services and customized support. Right in the district, in the immediate vicinity of the client.
Success stories of the Middin Sex Education app:
VGN: Middin lanceert app seksuele voorlichting
AD: App geeft seksuele voorlichting
NPHF: Middin lanceert app seksuele voorlichting
Skipr: Middin lanceert app seksuele voorlichting
Kennisplein gehandicaptensector I: Middin lanceert app seksuele voorlichting

DTT blog: Pearls of media coverage
DTT blog: Press release: middin launches sex education app
DTT blog: DTT launches sexual education app