Safety first: Check your safety app
27.07.2016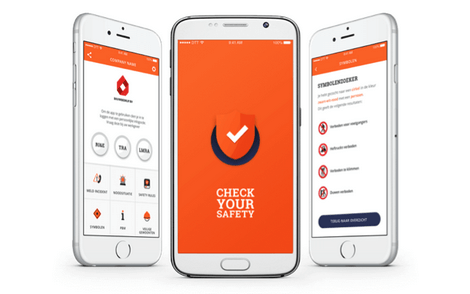 DTT team has no summer break. Thus, among other things we worked hard on the Check your Safety app. The app aims to improve safety in cleaning projects and other activities. An important and noble goal.
Reduce the risk
The hybrid app solution allows the user to do and document security protocols and documents, for example, ISO certificates. With this app, the client is sure the staff is aware of the regulations on a particular project. The user can easily and efficiently ingest such protocols as LMRA, TRA and RIE. Is a symbol in the workplace not clear? The app can find the meaning of it in no time. In short, all the knowledge to safely start is in the house!
An accident...
It can come out of the blue, indeed. So even the Check your safety app can't prevent all accidents. So: an application to the resque. The user can report incidents by uploading photos, a description and location of the incident. In case of an emergency just follow a roadmap in the Check your safety app and do the right things in this situation.
More news from DTT
DTT complements its summer vacation with the development of many magnificent projects.
We are now busy with Hoes geocaching game, Aslan musicschool app, iProvèn e-Health app and the Fruitbuit app for RIVM.