The JellinekMinnesota recovery app is now live
23.10.2020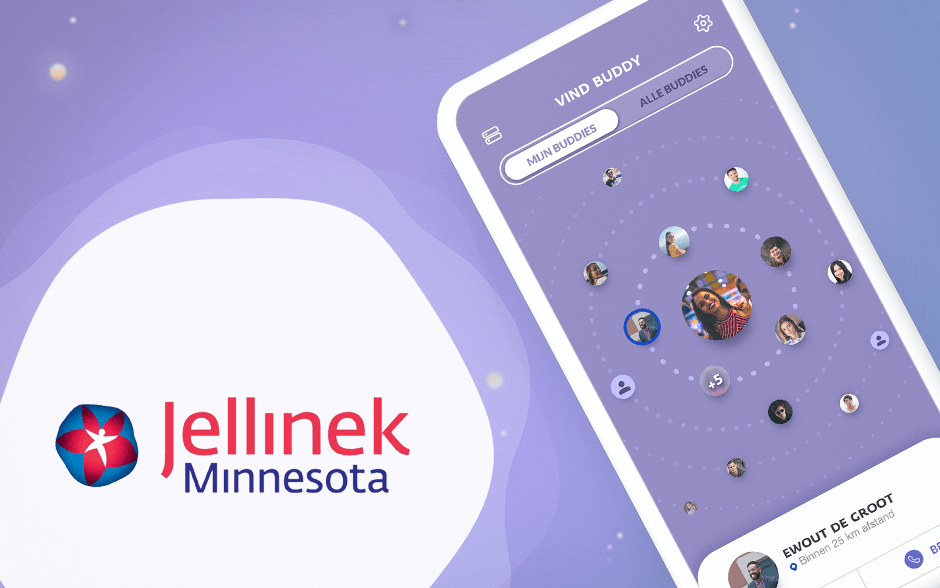 JellinekMinnesota helps men and women with alcohol, drug, and gambling addictions in the Netherlands. It's not easy to break the cycle of addiction. One of the extra aiding tools that can now be used by JellinekMinnesota is the JellinekMinnesota recovery app.
Help and connections, also after the treatment 
With the JellinekMinnesota recovery app, adults that are (or were) being treated in the JellinekMinnesota program can support each other. The app creates a feeling of connectedness for its users: you quit by yourself, but not alone. Through a radar (buddy finder) the user can see if there are other buddies around, so they can encourage each other to stay clean. The app also allows its users to create group chats, talk about various themes, and show how long they have been clean for motivation.
The launch of the app corresponds with a joyful moment in the history of JellinekMinnesota: on October 15, they celebrated their 10-year jubilee. Download the JellinekMinnesota recovery app now for iOS or Android. In an article, JellinekMinnesota wrote about the launch of the JellinekMinnesota recovery app, companionship in times of corona, and the 10-year anniversary of the community. Read the JellinekMinnesota article (in Dutch) here: JellinekMinnesta recovery app to prevent relapse.