The RIVM Tickbite app: number 1 in the app stores
26.06.2020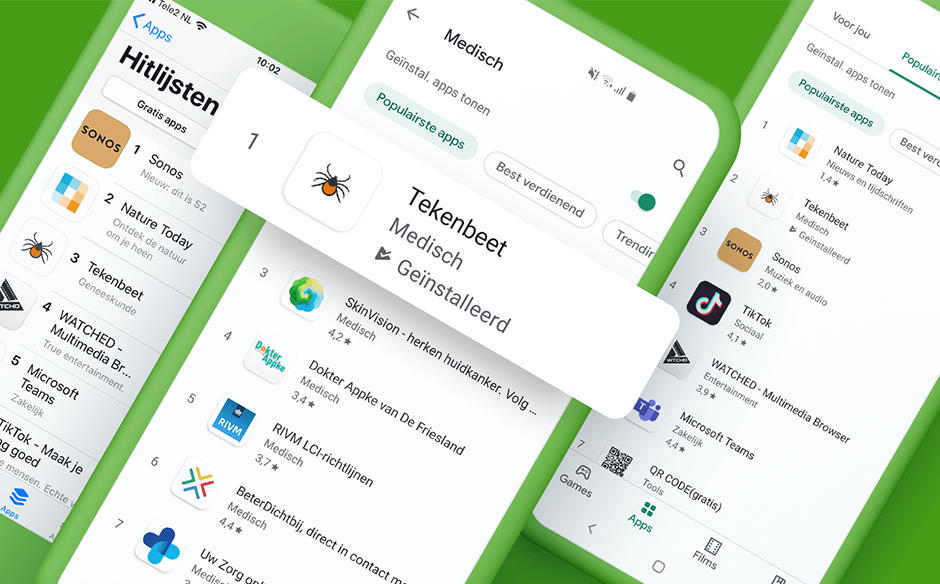 This year the 22nd till the 26th of June was the Week of the Tick where the tick got full attantion again. Becasue of the attantion, the Tickbite app reached multiple top rankings in the app stores. A result to be proud of. 
Multiple top rankings for the tickbite app 
The RIVM Tickbite app was launched in 2014 and shows an accurate overview of the tick activity in The Netherlands. The app informs the users about the tick, tickbites and Lyme disease with handy instructions on how to recognize a tick, how to check yourself for tick(bites) and how to remove one. Apart from that the app consists of a tick radar that gives direct insights in the accurate and a ten-day prediction of the activity level and the nymph stage of the tick. 
After six years in the app stores, the Tickbite app still achieves great successes; last Wednesday the Tickbite app ranked #1 trending, #1 in the category medical and #1 in the category most popular apps in the Google Play Store. And this was not all becasue the Tickbite app also ranked #1 in the category medical care and #3 position of the free apps in the Apple App Store. 

Would you like to carefree relax in The Netherlands and make use of the Tickbite app? Download the app now for Android and iOS.