Dream start for the Bootcamp Club loyalty app
31.05.2017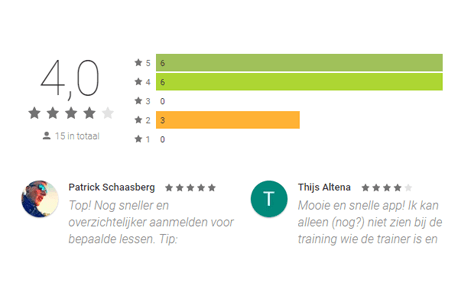 Since its launch, the Bootcamp Club loyalty app already scored many points with the users! The Bootcamp Club app makes sport trainings even more fun: plan and book a place at a boot camp near you, save points for each reservation and turn those points into handy discounts and actions.
A dream start to be proud of!
Since 22nd of May, thousands of users have downloaded the app for iPhone and Android phone. The app received a lot of positive reviews, we share some of them with you.
1. Werkt goed ★★★★★
door: Nomi199323
Het is een fijne app dat werkt naar behoren. De app is handig in gebruik en makkelijk/snel te bedienen.
2. Super! ★★★★★
door: Stein-m
Wat een toffe uitbreiding van TBCC! Erg blij mee.
3. Mega verbetering ★★★★★
door: Jnnwe
Veel beter dan de vorige app! Overzichtelijk en heel eenvoudig. Was zeker het wachten waard! En het spaarprogramma is ook echt top. Jammer dat je niet kan zien wie de trainer van de les is. Wellicht een idee voor de update.
4. - ★★★★★
door: Patrick Schaasberg
Top! Nog sneller en overzichtelijker aanmelden voor bepaalde lessen. Tip: Aanvinken welke stad je het liefst traint zodat je niet continu hoeft te scrollen na het opnieuw openen van de app.
5. Handig, snel & makkelijk! ★★★★★
door: Jorddd1982:))
Handig en snel om een training te vinden / reserveren.
Success stories about the Bootcamp Club Loyalty app: