Hebban Books app is live
20.10.2017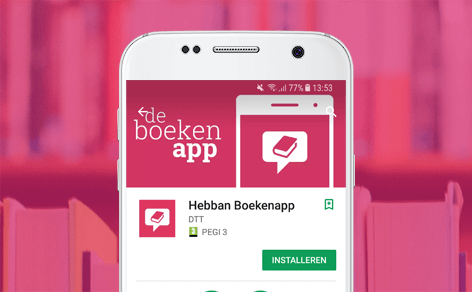 Book lovers, the Hebban Books app is now available in app stores!
The Hebban book community in your smartphone
A digital book club, what book lover would not want that? Hebban, the most popular book site of the Netherlands and Flanders, is now available as Hebban Books app. You can now easily find all your books with the barcode scanner and keep an overview of books that you have already read in your bookcase and books that you still want to read in the future. The app offers inspiring bookshelves with upcoming books, trending books and more.
Users who are already part of the Hebban community can log into the Hebban Books app with their existing (website) login. New users can easily create a free account in the app.
Are you curious about the app? Then download the Hebban Books App in the App Store or Google Play Store.
Hebban: a good first impression
The first positive reviews are already coming in. Here is a grasp of the success of the Hebban Books App:
★★★★★ door Kaakaatje kaakaatje
"Een super leuke en handige App! Nu kan ik een keertje mijn leeslijstje bijhouden! Ook zeker fijn dat er een boekenscanner in zit!"
★★★★★ door Anoniem
Handige app voor de echte leesgek; onderweg je boekenplank bijwerken, met behulp van de barcodescanner informatie opvragen over een boek..
★★★★★ door Francine Herrebaut
Heerlijk om altijd en overal toegang te hebben tot de meest overzichtelijke bibliotheek met info over boeken, auteurs en persoonlijke boekenplanken. Topapp.!
★★★★★ door Bianca Blok
Eindelijk al mijn gelezen boeken in 1 oogopslag bij elkaar. Heel handig!
★★★★★ door Martijn Lindeboom
De app waar heel boekminnend Nederland (en Vlaanderen) al tijden naar smacht. En hij is zelfs beter en mooier dan gehoopt!
★★★★★ door Anoniem
Een heerlijk werkende handige App voor iedere boekliefhebber... De scanfunctie is ideaal. Werkt gemakkelijk.
★★★★★ door Jeroen Mulder
De website op app-formaat. Erg fijn! Snel, stabiel en makkelijk. Beheer je boekenplanken, scan boeken m.b.v. de barcodescanner, schrijf een recensie en nog veel meer. Ik heb er even op moeten wachten, maar dat was het meer dan waard.
★★★★★ door Jan-Hein van de Konijnenberg
Ik ben heel blij met deze app. Prachtig!!
★★★★★ door Mandy van den Berg
Ik heb deze app mogen testen en wat ben ik er ontzettend blij mee! Zo overzichtelijk en snel!
★★★★★ door Anoniem
Wat een geweldige app! Ziet er mooi uit en super handig
★★★★★ door Karin van Delft
Superhandige app. Werkt heel eenvoudig. Nooit meer dubbele boeken kopen!
★★★★★ door Frank Pleij
Geweldig verlengstuk van de bekende boekensite Hebban. Een echte aanrader voor elke boekliefhebber!
★★★★★ door Dionne Kosters
Erg handige app om de boeken die je hebt gelezen en wil lezen bij te houden. Heb hem voor de tijd al mogen testen, hij is mooi geworden!
★★★★★ door J. Roestenberg
Wat fijn om alle hebban info nu altijd bij me te hebben. Om in boekwinkel of bibliotheek snel even een boek te kunnen scannen en relevante details te checken. Love it, evenals de frisse uitstraling.
★★★★★ door Katarine Catelain
Toppertje
★★★★★ door Roy Jansen
Een geweldige app. Omdat ik een tester ben van de Hebbanapp heb ik de app al langere tijd in gebruik. Vooral het scannen is een verrijking. Al enkele keren in een winkel een boek wat ik wil lezen gescand. Ook het zoeken gaat makkelijk en je kunt ook heel makkelijk aangeven of je het boek al in je bezit hebt. Heel blij met deze app en ook anderen blij gemaakt door te vertellen dat de app uit is! Ga hier heel veel gebruik van maken!
★★★★★ door Petra Vlaanderen
Super dat de app er is! Heel overzichtelijk en handig. Ik zou het wel handig vinden als je binnen " wil ik lezen" ook zou kunnen filteren op de boeken die nog niet in bezit zijn. Dan heb je een mooi overzicht van de boeken die je nog wil kopen.
(Hebban.nl) door Bianca Rijsdijk
Yes, yes, yes lang gewacht, stil gezwegen, uiteindelijk de Hebban-app op mijn mobiel gekregen!! Dank jullie wel.

(Hebban.nl) door Willeke
Fijn dat de app nu gearriveerd is, ik ben direct gaan scannen en dat lukte goed, evenals de boekenplanken.

(Hebban.nl) door Anneke Gieling
Nou, de installatie liep als een tierelier ;-). Wat ik echt super vind is de mogelijkheid om boeken te kunnen scannen aan de barcode. Hoe handig is dát in de boekwinkel en de bibliotheek.
(Hebban.nl) door Jolanda Wouters
Super! De app downloaden ging heel gemakkelijk. Hij ziet er mooi uit. Het scannen gaat heel makkelijk. Je kunt je boekenplanken zien, helaas niet allemaal. Maar met één tik op een boek heb je alle informatie. Handig hoor!
Success stories about Hebban Books app:
Hebban: Download nu de Hebban Boekenapp in de Google Play Store
Hebban: Download nu de Hebban Boekenapp in de iTunes Store
Boekblad.nl: Hebban Boekenapp is gelanceerd