Tick bite app nominated for Accenture Innovation Awards
03.10.2014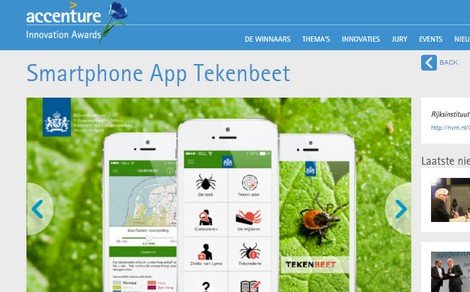 The Accenture Innovation Awards is an annual innovation competition for the most innovative Dutch products, services and concepts. The Accenture Innovation Awards gives companies and organizations the recognition they deserve.
Throughout the year there are various events and highlights that take place around the Innovation Awards. The absolute highlight is the presentation of the Innovation Awards in De Fabrique in Utrecht on November 14, 2014. During this final the jury gives Blue Tulips, Green Tulip, Audience Award and Innovator of the Year award.
In addition to the jury, the public can also vote.