Irina Filkovskaya
iOS Development Internship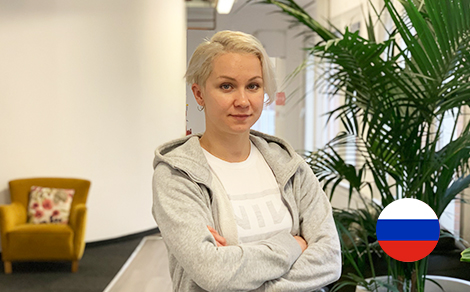 I am really happy I got the opportunity to undergo a traineeship at DTT. Although I have a solid experience in the IT industry in the role of technical writer, I don't have any formal computer science education, and DTT became a great place to kick-start my new career of an iOS mobile app developer. The company provides an open, welcoming and nurturing environment that helps you to grow both professionally and personally.
During my 6-months traineeship, I worked on 2 projects and learned a tremendous amount about clean code, reactive programming, unit testing, UI, frameworks, and lots of other things. At DTT, you learn by practice, immediately applying your knowledge to a real-project task at hand. And what I like the most is that there are all sorts of tasks and challenges, which is a real fun to tackle and which, in a long run, lets you significantly expand your expertise.
I like the challenging and friendly atmosphere at DTT (where we're Doing Things Together), it is an interesting and fun place to work at. That is why I gladly accepted the offer to become a full-time iOS developer at DTT, I am looking forward to what's coming next!
OVERVIEW