Renewed and improved: Fanly loyalty app
19.10.2016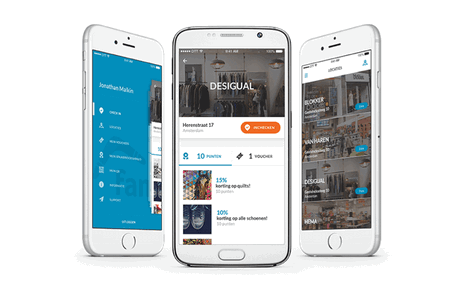 Hard work pays off: the new Fanly loyalty app is live! Fanly is an app for loyal customers of stores or restaurants. With this project, we contributed in companies' goal to win more loyal customers. And what is the result? You can find it out in the app stores starting from today!
Fanly live in app stores
Fanly approached DTT with the issue to further improve the existing Fanly app. Together we have come to additional functionalities and a completely new design. A great step forward for the Fanly project!
How does the app works
Fanly loyalty program is preoccupied with saving your money and make you a happy and contented customer. How can you save? By applying vouchers for discounts or other promotions. From today you can download the new and improved Fanly loyalty app. This latest version is available in the Apple App Store for iPhone and the Google Play Store for Android phones. We can only say: just do it. With a loyalty program, loyal customers are rewarded for their continued interest. It basically means that the more often you purchase something, the more you benefit. Download the app and see your favorite stores and shops in one place!
If you want to learn more about loyalty apps, check out the Sunflower loyalty app. It is the first but certainly not the last, white-label version of the Fanly app.