Rogier Krijnen | Information management intern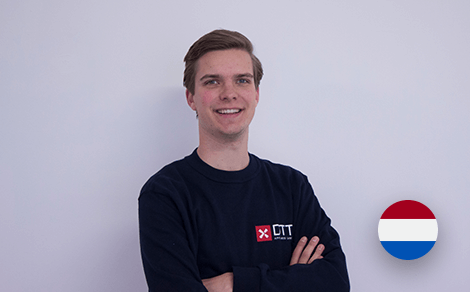 "During my internship at DTT I had a very nice and challenging time. I've found out that DTT is a unique company.
Unique in the field of the collegial working atmosphere. Everyone is always ready to help you, your colleagues are close to you and you can address everyone. Every Friday afternoon there are cozy get-togethers and a nice drink and something to eat. There are wonderful events once in a while where you can get to know your colleagues, the company and Amsterdam. In addition, certainly not the least important, the atmosphere is always friendly and informal.
Unique in the field of work location. The company is located in a beautiful building in the center of Amsterdam, very close to the Central Station. Very convenient when you have to take the train daily.
Unique in the field of challenging work. You are the specialist and that is how you are treated. Do you think you can improve something? Take action and ensure improvement within the company. Initiative is rewarded and the managers are always open to your opinion. They regularly strive to do better than competitors and make the company better.
Unique in the area of clients. When I was there, we worked with many different clients. I suddenly had regular contact with clients that I had often heard of. Companies that I did not know before turned out to be very nice parties to be in contact with.
I had a very nice time during my internship at DTT. It is a nice place where you develop your talent and your talent helps you develop apps! "
OVERVIEW