Five top scorers from DTT in the spotlight
22.04.2016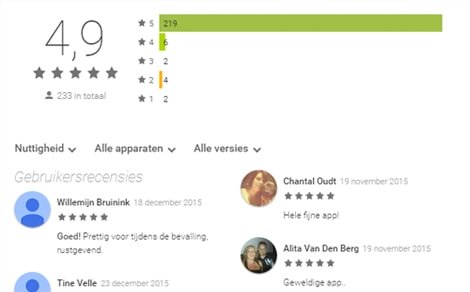 Nothing makes us happier than good ratings and reviews. The best proof for our good work are the reviews and stars given. As an app developer, we strive for five stars for all our projects in the app stores. Below are our six cases.
The sky is the limit: OSR Augmented Reality app
Explore the night sky with Online Star Register (OSR) app. How does it work? Purchase a star online and give it as a gift to your beloved one. With the OSR app you can easily find your star and locate it on the night sky. Your gift can be found in the sky with the OSR app. It is a very romantic and unique gift! We quote a few most positive reviews.
1. Bossicorn ★★★★★
This is the coolest thing I have ever seen! Me and my family where in our backyard looking at the meteor shower and we saw tons ad stars and for once we knew what they where! When we were done I could still use the app inside.
2. Smithinor ★★★★★
We did this for our dear friend who recently passed away and for her family. What a touching tribute and an avenue for her surviving family to feel and express her continued presence in their lives!
3. Itsleah17 ★★★★★
Just what I was looking for! I saw the skies and knew the stars. I saw constellations I never knew existed. The best part? I sat on my couch the entire time! I Love this app and hope updates never ruin it.
For more reviews please go to the app store page of OSR Augmented Reality app.
Our child: Doula
The launch of the labor coach app was actively discussed in Dutch media (Telegraaf, Gazet van Antwerpen, Radio 2 en Trouw). This contributed to a flying start, numerous downloads and positive reviews.
1. D-larah ★★★★★
Geweldige app! Een absolute aanrader. Neem hem ook mee met een goede Bluetooth speaker naar de verloskamer. De sfeer in de kamer is door de muziek en stem zo relaxed! Als net nieuwe papa zeg ik bedankt voor deze prachtige app. Thnxs.
2. Ssoohikk ★★★★★
Wonderful App! I'm a doula and I've attended many many births, and I LOVE this app. I give it to my clients to use before I arrive. I also think it can be a great tool for the partner so they can learn ways of helping the birthing mom. Thank you for this app!
3. Rinus013 ★★★★★
Het heeft mijn vrouw ontzettend geholpen! De rustige stem van Marijke bracht haar tot rust en door de schema's wist ik wanneer ik hulp moest inschakelen. Heel fijn!
For more information, visit the app store for iOS and Android, Doula blog Received with open arms worldwide and Popular in the press.
The flagship KNHS dressage and riding tests app
The KNHS dressage app offers a dressage rider a helping hand with its many functionalities. A desired reminder. How do we know? After less than two weeks the app was already number 1 in top paid apps in iTunes. Below are our top 3 reviews from happy users:
1. Eva fhrx ★★★★
Tot nu een erg fijne app! De uitleg van onderdelen is fijn en ook de proef op video. Ik gebruik hem erg vaak!
2. Marquelie87 ★★★★★
Handig: alles in 1. Fijne app. Niet alleen de proeven staan erin maar ook de filmpjes, tips van de pro's en nog veel meer handige dingen. Ik ben er blij mee!
3. Margreet Groenenboom ★★★★★
Super. Zo fijn dat ik nu zelf mijn proef kan inspreken en kan rijden zonder hulp van anderen.

Read our blog post about KNHS dressage app.
Don't let the bugs bite with RIVM tickbite app
Spring is in the air, and so are insects and especially ticks. How to prevent and treat a tick bite? Our RIVM Tickbite awareness app is just the right thing. Let's find out who found it helpfull!

1. Pim Roos ★★★★
Mooie app met veel informatie. Handig als je de natuur in gaat om te sporten of kamperen.
2. Rick Beekman ★★★★
Informatief! Ik woon dicht bij het bos en laat hier regelmatig de hond uit. Nuttige informatie voor mij.
3. Jinopl ★★★★
Geweldige app. Heel praktisch! Superoverzichtelijk, echt heel handig!
The NOS-magazine advises to spot ticks with RIVM tickbite app.

Voetbalprimeur news app for the football fans
With the Voetbalprimeur app the football fans are always aware of the latest news about football. It is very convenient. This is what users say:
1. Staverotti ★★★★★
Precies wat je nodig hebt! Makkelijk, snel en overzichtelijk. Helemaal na de laatste update.
2. Virgil1988 ★★★★
Beste Nederlandse voetbal app! App loopt echt op rolletjes. Nu ook als ik onderweg ben, het laatste nieuws als eerste binnen. Nice!
3. Neburwink ★★★★
Hele chille app. Snel, overzichtelijk en volledig. Super app om op mobiel te hebben, voor grote en kleine voetbalfans.

More reviews on Google Play and iTunes.